Where does one start when you were born in Detroit, Michigan, and raised during the great "Funk Brothers" era? Or, raised during the era of "The Originators of Music", as one scholar has described the Funk Brothers. I am not alone when I say that I could not escape the Sound of Motown. The world could not escape the great sound originated by the Funk Brothers.
I have reverence for the Funk Brothers, and proudly proclaim that the late great James Jamerson was my idol. I began playing the horn in middle school for a short while, but soon picked up the bass guitar and wanted to make my bass sound like the sound of Jamerson's bass. As many musician will tell you, your musical instrument is a connection to one's self. But no one can match the heart beat demonstrated by Jamerson when playing his bass. It is all good though, because in attempting to capture the feelings of Jamerson while playing, the admirers of Jamerson began to develope their own unique style. Several bassist have come out of that era to make a legacy for themselves.
I had the pleasure of meeting James Jamerson on one occasion. In the 70's, I was visiting Motown Studio B, and Jamerson was there. I will always treasure that memory. I've also had the opportunity to meet and chat with his son, James Jr. whenever he's in Detroit.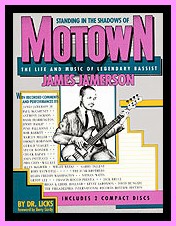 "Thank you Dr. Licks for your excellent book!"